25 years of NYICFF —
25 more with your help
---
As a nonprofit organization, nothing we do is possible without the support of our members, donors, sponsors, and funders. Here's a look at the impact of all we've done—together—over the past 25 years to change countless lives through the brilliance of film. We hope you'll join us as we look to the next quarter-century and contribute to our
25th Anniversary Fundraiser
.
---
Art plus engagement equals impact, and that's our formula.
Programming Director Maria-Christina Villaseñor
---
The Beginning
In 1997, we hosted a weekend of screenings for families on the hunch that we weren't the only ones looking for something more from the movies available to our kids. Twenty-five years later, we remain on the forefront of a movement to redefine "film for kids." While art in any form offers a richer and dynamic view of life, film can be an especially powerful medium to reach young people and enrich their lives. More than entertainment or escapism, great films offer young viewers a path to understand themselves, the reality of others, and to catalyze change.
---
Since that weekend in 1997, our annual Oscar
®
-qualifying
Film Festival
has become the largest and most prestigious festival for children's film in North America. Our Jury comprises some of the most influential filmmakers and industry leaders, and 38 Festival films have received Academy Awards
®
or nominations. In 2021, our 100% virtual event reached families and film lovers in 47 states.
Presenting a slate that is as
diverse in representation as it is in visual style, storytelling, and subject matter is at the core of everything that we do
. As the Festival grew, NYICFF became synonymous with quality children's programming, and we found ourselves in a position to amplify a wide spectrum of voices—both behind the camera and in the audience. We believe it our duty to place particular emphasis on those voices rarely heard and to provide access to those who rarely have the opportunity to hear them. This led us to the New York City school system.
---
Growing up, film was celebrated in my home as an artistic craft and cultural force. I believe every child deserves the same opportunity to open that lifelong gateway to curiosity, community, and storytelling.
Education Director Martine McDonald
---
FilmEd
Engaging with the arts can be transformative, but many meaningful cultural experiences are cost-prohibitive or otherwise unreachable by most children. These barriers are higher in under-resourced communities, where access to the arts is often already limited. And the existing media widely available to young people is not at all representative of the world that they live in. Our school outreach focuses primarily on Title I schools, where students of color make up over 67% of the student body. They are least likely to see positive, authentic portrayals of characters that look like them in mainstream media, where only 17% of lead characters are BIPOC.
FilmEd Classroom
uses NYICFF's unparalleled programs to foster social-emotional learning, support media literacy, and help educators address complex, nuanced issues using the power of film. All films and activities dismantle stereotypes and offer inclusive representation of the communities many of these students come from. Seeing themselves in such representations boosts confidence, improves academic performance, and develops culturally-aware, critically engaged students.
Learn more about FilmEd
---
Seeing all these films made me think to myself that I can do things that could change the world.
FilmEd student, 11 years old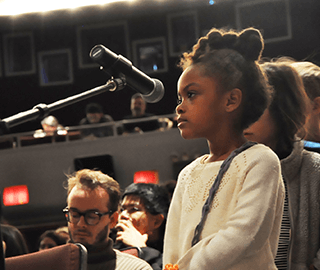 Toward an Inclusive Future
Addressing representation on screen is only half of the battle. So in 2020 we expanded our focus to where decisions are made: behind the camera. Our annual Industry Forum, Toward an Inclusive Future, brings together a truly inclusive community of seasoned industry professionals, students, and hopefuls for frank, actionable discussions about
equity on all sides of the screen
. Panels cover breaking into the industry, sharing authentic BIPOC stories, LGBTQ+ representation in kids' media, and much more. In addition to sharing tricks of the trade, our international guests offer insight into their processes and the importance of making art that reflects both the creator and the audience.
Learn more about our Industry Forum
To Another 25 Years
We're incredibly proud to be a part of the change happening—on screen, behind the camera, in classrooms, and in studios—and we cannot do it with your support. We never imagined back in 1997 that NYICFF could change the trajectory of so many lives: from the audience member who finally saw their community on screen; the filmmaker blown away by the depth of a young person's question; to an intern, new to the field, growing into a successful producer at a leading animation studio. Thank you for your belief in NYICFF over the years. With your help, there's no limit to what we can do in the next 25.