Our 25th Anniversary Fundraiser
---
Join us in celebrating 25 years of redefining "film for kids" by making a contribution of any size. With your help, we can continue to bring thousands of children, families, students, and industry hopefuls the life-changing programs they deserve.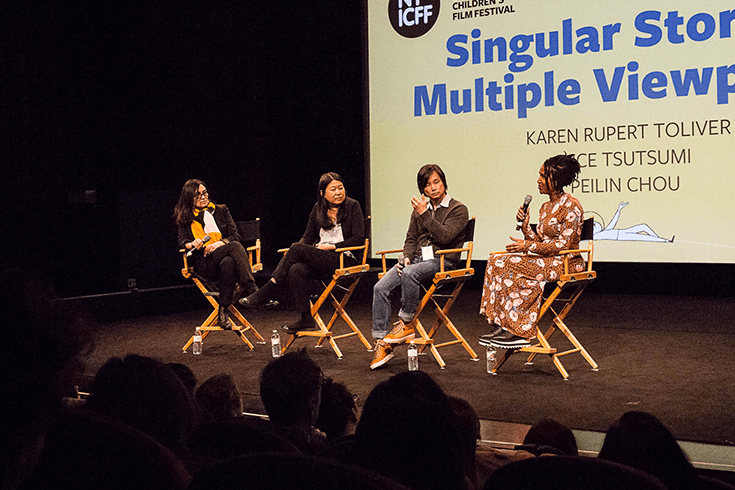 As a small but mighty arts nonprofit, NYICFF has curated thousands of artful, thought-provoking films from around the world for 25 years, touching the lives of thousands of film lovers of all ages. Through film, our audiences have discovered new worlds, heard from historically excluded voices, learned, laughed, and expanded their horizons. But finding, selecting, and presenting these programs in theaters and classrooms comes at a cost. In order to gather safely in 2022, we reduced screening capacity by 43%—dealing a major blow to our annual revenue. We need your help. In this crucial moment, please consider making a donation of any size to support us.
In our 25th anniversary year, 11,950 children, parents, and film lovers gathered together safely in theaters and homes for three weekends, 83 films, and countless new memories. This year, we provided 9,000 NYC students with year-round arts programming through FilmEd Classroom. Below are just a few examples of how NYICFF continues to be a vehicle for change for this generation, and for generations to come.
The Festival is one of the best things available in NYC for families. It opens young minds to other cultures and different forms of storytelling. I hope the festival breeds the next generation of filmgoers, filmmakers and fans of foreign films.
Best movies I ever watched!
I've been coming to NYICFF for 14 years. I'm 19 years old. Thank you. Please never stop.
I loved how all the movies were created. Thank you!
The conversations got very deep very quickly during FilmEd Classroom! Watching as a community allows the conversations to get grounded in something that everyone experienced. Our students really saw themselves reflected in the material and in the filmmakers, which was awesome.
My kids and I are such huge fans of NYICFF. We discovered it through the virtual programming in 2020. We are now planning to attend in person for next year! It has been incredible for my now 3- and 6-year-old daughters and has opened so many worlds for them at a time when they barely left their own yards for weeks at a time.
---
New York Int'l Children's Film Festival is a 501(c)(3) non-profit arts organization made possible by the generosity of members, donors, and sponsors. Please visit nyicff.org/donate to contribute to our Spring Fundraising Campaign. To learn more and get involved, visit nyicff.org/support.
---