Festival Tickets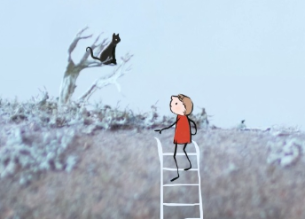 For ages 8 to 14
Lineup includes:
1MINUTE NATURE: JELLYFISH WEATHER
Netherlands – NEW YORK PREMIERE
Animated Documentary, Stefanie Visjager & Katinka Baehr, 2016, 1 min
The sea teems with life, color, and mystery in this boy's story of a day at the beach.
DRIVEN
USA
Animation, Julie Zammarchi, 2016, 3 min
A son remembers what it took for his father—the first African American inducted into the NASCAR Hall of Fame—to cross the finish line at racetracks in the segregated South.
HEADS TOGETHER
Netherlands – NORTH AMERICAN PREMIERE
Animation, Job, Joris, & Marieke, 2016, 21 min
Three friends must walk a day in each other's shoes…and legs, and torsos.
LITTLE MOUSE
Hungary – US PREMIERE
Animation, Ervin B. Nagy, 2016, 7 min
Eleven-year-old "Little Mouse" is a naturally gifted swimmer who earned a spot at the Bucharest Youth Championship. Will she have what it takes to out-lap the big kids?
MAST QALANDER
UK/India
Live Action, Divij Roopchand, 2016, 15 min
Young Sikh Montek is on the verge of a big birthday. Can he get what he really wants?
NINO & FELIX
Italy – NORTH AMERICAN PREMIERE
Animation, Marta Palazzo & Lorenzo Latrofa, 2015, 8 min
Nino and Felix, two boys thrown together by circumstance, must learn to work it out in fantastical fashion to find common ground.
THE PITS
USA - WORLD PREMIERE
Live Action, Mike Hayhurst, 2016, 3 min
In a lonely world, what can you do to find your fit? A story about the search for love.
A SMALL ESCAPE
Sweden – NORTH AMERICAN PREMIERE
Animation, David Sandell, 2016, 3 min
A pair of scissors plans a great domestic escape, joining forces with pencils, Post-Its and tape rolls to shape its own destiny.
A WELL SPENT AFTERNOON
Slovenia – NEW YORK PREMIERE
Live Action, Martin Turk, 2016, 8 min
Noble actions don't always reap clear rewards, but a father and son gain a meaningful bond in the exchange.
Sold out? Check out the following theaters for more available showtimes: